I Help Overwhelmed Professional Services Firms Grow Sales by 10% Within 10 Weeks by Better Leveraging the Tools and Assets You Already Own
I'll Help You Find and Leverage Hidden Revenue-Generating Opportunities in Your Business
As a successful professional service provider or firm, you're under constant pressure to grow sales. But that can be challenging in today's continually shifting market. The competition is stiffer than ever. And what worked before may no longer be effective.
The cacophony of marketing advice just makes it worse — the constant stream of new social media platforms you're being told to use … or the latest-and-greatest authority-building strategy you must deploy.
All it does is create overwhelm and inaction.
Hi, I'm Ed Gandia. And I work with established professional service providers and firms to find and leverage hidden revenue opportunities in their business. Rather than deploy new tools and platforms, we focus on generating quick, 10% or higher revenue boosts from the assets you already have — namely your email database.
We take an 80/20 approach to this effort, focusing on one thing at a time to generate quick wins and prevent overwhelm.
Unlike so many marketing "experts," I've built and grown two very successful professional service businesses through a combination of resourcefulness and smart email marketing strategies
Let's work together to squeeze more value out of your existing assets. Tell me more about your situation. Or learn more about how I could help you.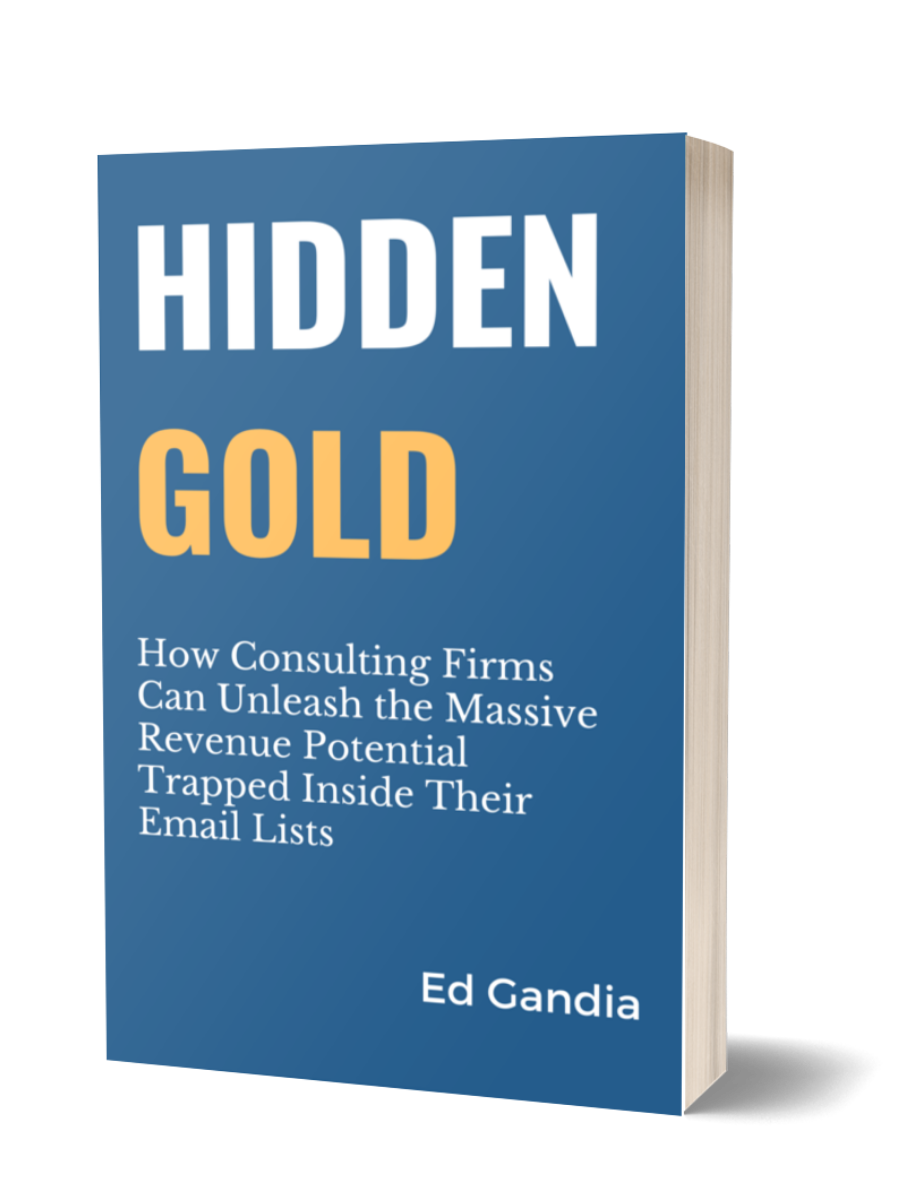 Download a FREE copy of my book:
HIDDEN

GOLD
How Consulting Firms Can Unleash the Massive Potential Trapped Inside Their Email Lists
If you're a consultant with an email list of 1,000+ prospects and clients, there's a very good chance you're not fully leveraging this asset. If your list has 3,000+ people, you're sitting on a goldmine!
"Ed Gandia is a great coach — friendly, warm, supportive and EFFECTIVE! He helped me to double the intake for one of my writing groups in a couple of months of straightforward, sensible work. I highly recommend him."
Daphne Gray-Grant
The Publication Coach
PublicationCoach.com